#ThursdaysTrail - Jindabyne - Power Poles to the Dam
21/2/2013
The Video:
The Why:
I love Jindabyne with a passion, I've been going there every year to ski/snowboard since I was in primary school, but these days I spend more time on bike than my snowboard when in the Snowy Mountains, in fact I take my mountain bike with me regardless of the season - Riding Lake Crackenback during a snow storm.
This is a very small section of the Mill Creek Trail and quite typical of the entire trail, with the exception of the switchbacks, this section contains the largest concentration of them.
Who For:
Suitable for any mountain biker of single track standard, however the high altitude and cold air can make for tough climbing on the hills.
About the Trail Centre:
The Mill Creek Trail runs between Jindabyne Dam and the Tyrolean Villiage. In Winter 2012 they opened a new section The Jindabyne Community Trail that runs from the Dam to Jindabyne - almost all the way to the centre of town. This has created a 7km (14km return) cross country trail that is suitable for any mountain biker of single track standard.
#ThursdaysTrail
This section of trail is at the Dam end of the Mill Creek Trail. It starts where the single track and fire trail brush the Kosciuszko Highway (as shown at the beginning of the video & see the map at the bottom).
At the top of the hill (via the fire trail) are some rather impressive power poles that stretch over the lake towards Jindabyne, its a great spot for a photograph (or some Darryl Kerrigan style reflection) - especially in winter when the mountains in the background are topped with snow.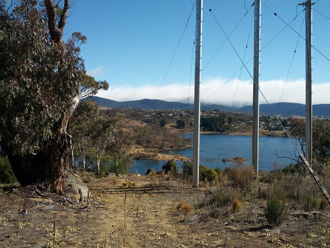 From the top at the single power pole the trail descends down the fire trail and turns hard right onto the single trail.
For a short period it runs parrallel to the highway before descending through a series of switchbacks and over a bridge. These switchbacks have some rocks in them so caution is advised on your first run. The granite rock of the snowy tends to be very sharp which is in stark contrast to the usually rounded sandstone found on Sydney trails.
The trail then traverses the lake side of the hill before winding its way down the slope towards the Dam.
The trail is fairly clear with the odd bit of granite to avoid or roll over, a number of banked corners and 2 bridges. Its easily sessioned as a practice trail with plenty of climbing when riding from the Dam up.
Also worth looking at:
The entire Mill Creek Trail
From the power pole at the top there appears to be a tight descent down the other side. I haven't ridden it but it definitely looks like an awesome descent worth investigating.
Jindabyne Community Trail - Ride from the end of the Mill Creek trail, over the dam wall and back to Jindabyne. Fun open and flowy trail.
View
ThursdaysTrail - Power Pole to Dam
in a larger map
Trail Centres and Trails featured in this blog