Rotorua - a Mountain Bikerís Journey
27/1/2014
Iíve been very quiet since returning from my Rotorua mountain bike adventure. My time has been spent head down - bum up in my real job, which is why I was in New Zealand in the first place.
In this post I want to talk about the journey and tit bits of info I can pass on if youíre considering heading to the shaky isles for some mountain bike gold. Iíll follow this one up with a more detailed post on the trails and a feature video.

The mountain bike leg was days into a journey that consisted of long days and little time to switch off. I arrived in Auckland at midnight in need of a good sleep but that was never going to happen - I was up before dawn and straight into my hydration routine. A repack of my bags to ensure the MTB gear was accessible, shower, McBreakfast, collection of the rental car and I was on the road out of Auckland by 8am .. right on schedule.

Rotorua is around 3 hours from Auckland which for me really isnít that far (Syd-Stromlo a prime example). Plenty of locals do day trips in fact if youíre based on the south side of town you can easily make ďfirst shuttleĒ at 9am. There are two ways to get from Auckland to Rotorua and barely a struck match between them for time. Iím fairly confident I went out via the north route and came back via Hamilton, but on both occasions my focus was not on the route but on getting as much fluid into my body as possible!
The Alpin Motel
Despite being 2 hours early for check in I was lucky enough to have landed a room ready to go. This gave me a chance to settle in and relax prior to the afternoon's ride.

The Alpin Motel has a whopping great bike on its sign and if that didnít make me feel welcome the bike rack at the reception certainly did. They explained the bike wash facilities, how each unit had a lockable back yard (with spa) and the 24 hour naturally heated pool! The Alpin was a good choice.

Itís just a short ride from the Alpin to the Redwoods and in between youíll find the boiling mud pools and the Pohutu Geyser. The Rotorua township is flat-as-bro but the ride out to the Redwoods has a long steady climb. Plenty of people ride from town but personally I would save every kilojoule for the trails .. much better spent up there!

The Alpin is of normal motel standard, the rooms are spacious and well appointed. Did I mention that each unit has itís own backyard with a naturally heated outdoor spa? Not that I had time to use it, when I wasnít riding I was hydrating, loading up on carbs and protein, taking anti-inflammatories, icing my aching muscles or sleeping.

I checked out prior to my last dayís riding but the manager invited me to come back afterwards, have a swim, shower and use the bike wash. I didnít need to use it on this occasion but what a great offer. I found this sort of hospitality was standard in Rotorua.
Mountain Bike Rotorua
I was desperate to take my own bike. With only a short time to ride I didnít want to waste runs getting a feel for a different bike but the travel plans conspired against me and the thought of spending 3 hours cleaning and packing my bike for just a day and half riding had me opting to hire. (and thank god I didn't have to drag my bike 500m in 36įC heat while in Melbourne)

Mountain Bike Rotorua were very obliging. If you multi-day hire they allow you to keep the bike overnight, that meant I could maximize my riding time and not be worried about having to get back by closing time on Saturday and could be up at sparrows on Sunday. When I asked if I could use my dropper post, pedals and grips they were only too happy to accommodate me, in fact they had the bike stripped back ready for me when I arrived. How good is that!

Bike, mountain bike trail map and Manky later I was on my way .. well almost .. they checked that I had cash for the shuttle. Somehow Iíd missed that fact but a quick dash to the servo and I was back in time for the shuttle.
To wrap up my experience with Mountain Bike Rotorua, they were great to deal with and took me through the suspension setup etc. They also have a free bike wash.
Southstar Shuttles
The shuttle picks up twice daily from the Waipa carpark (9am and 1pm) and runs via the 8 Mile car park up to the shuttle zone. The shuttle(s) run from the base of Corners, Little Red Riding Huck and The Taniwha (DH) - National Downhill up to trailhead about every 15 minutes. Depending on how busy it is there can be up to 3 shuttles on the go, as there was on the Sunday. I let shuttles go without me so I had a chance to get my breath back.

Getting on the shuttle is very orgainsed and calm. Riders help strap each others bikes on and off the trailer (the strap is on the other side from your loading side). Climbing onboard includes a pleasant welcome from the shuttle driver and a good chat if youíre up for it. Disembarking the bus and offloading the trailer is done with the same relaxed and respectful manner. It was so far removed from my experiences with snow lift queues itís not funny. However despite the overriding sense of calm most riders are well clued into the efficiency process leaving the bus totally kitted up, gloves helmet and all. Once the bike is off the trailer they disappear down the trail before you can blink, racing the shuttle to the bottom. The trail head clears within a minute or two. Itís quite amazing. If you need directions ask quickly!

I bought a six run ticket, using 3 on the first afternoon and 2 on the second afternoon. I opted to drop a run as fatigue set in. As an indication of effort Corners trail top to bottom was 15-20 mins up on the pegs with only two 30 second breaks. 4-5 shuttles in half a day would be a fair effort in my opinion.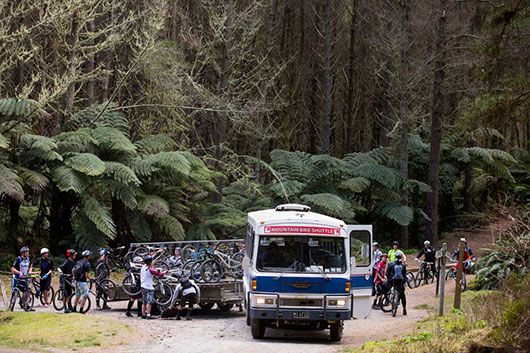 The Town
Rotorua town centre is dead flat, you can easily ride around the town and plenty do. There are quite a number of bike shops so if youíre keen for some cycling eye candy thereís enough to keep you occupied.

The restaurant strip is down the lake end of the main street. There is an excellent range of food, alfresco dining and some venues have live music. The strip was really pumping however I chose to pay my MTB Tax and visit the Pig and Whistle.

The Pig and Whistle is a great old pub and what they say is true - the meals are big and awesome, just what you need after a long day on the trails. Iíll go as far to say the beef, bacon and mushroom burger is the best burger Iíve ever eaten.
Tourist info is at the lake end of the main street and there's a money changer inside.
The Wash Up
Itís hard to explain how positive an experience I had in Rotorua . Everything was so well setup for mountain biking but the pace was relaxed and respectful. Itís a happy place to be.

Whether youíre taking all your gear, hiring for a few runs or just borrowing a supermarket hard tail to ride around the lower slopes you wonít regret spending time in the forest.

Of course the fun doesnít end there! Like everywhere else in NZ there are a range of activities designed to soil underwear, the food is awesome and the people are most welcoming.

I canít wait to go back!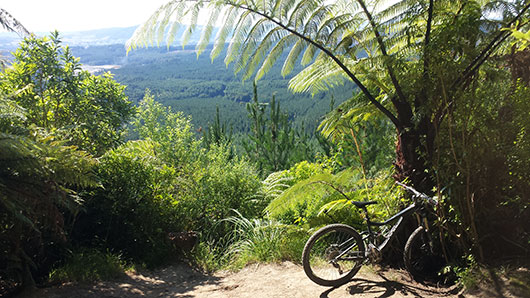 This trip was fully self funded .. but weíre not opposed to promotions in the future :)