Trail: Rotorua Redwoods
View
Other Trails
Bantry Bay (Northern Beaches, Sydney)
Bungarra Alpine Centre (Snowy Mountains)
Currumbin Border Track (NSW/QLD Border)
Daisy Hill (South Brisbane)
East Kowen (Kowen Pine Forest, Canberra)
Forest Pipeline (Northern Beaches, Sydney)
Fred Caterson Reserve (Castle Hill)
Golden Jubilee Field MTB Park (North Shore, Sydney)
Jindabyne (Snowy Mountains)
Kiwarrak State Forest (Tarree)
Majura Pines (Majura, Canberra)
Manly Dam (Northern Beaches, Sydney)
Mt Joyce (Gold Coast Hinterland)
Mt Kosciuszko (Snowy Mountains)
Nerang State Forest (Gold Coast)
Old Man's Valley (Hornsby, Sydney)
Oxford Falls (Northern Beaches, Sydney)
Pilot Wilderness (Snowy Mountains)
Red Hill (Northern Beaches, Sydney)
Rotorua Redwoods (New Zealand)
Silver Mountain (Kellogg)
Singleton (Hunter Valley)
Sparrow Hill (Kowen Pine Forest, Canberra)
St Ives and Belrose (North Shore, Sydney)
Stromlo Forest Park (Canberra)
Terrey Hills (Northern Beaches, Sydney)
The Oaks (Blue Mountains)
Thredbo Resort (Snowy Mountains)
Thredbo Valley Trail (Snowy Mountains)
Whistler Bike Park (Whistler)
Wingello (Southern Highlands)
Wylde MTB Trail (Cecil Park - Western Sydney)
Challenge Roadside (805m)
Rotorua Redwoods
Last Update: 22/2/2014
Some trail names are made up, if there is a different name please let us know.
Video Uploaded: 19/1/2014

Difficulty - Easy - Intermediate
Slope - Moderate
Space - Open
Surface - Dirt - Sand
Trail type - Single track
Notes:
The Challenge Area of the Redwoods has been completely re-cut after the hillside was harvested for the forest timber, the result is a great set of seriously fun MTB park style trails. The Challenge Area is only a short and fairly easy dirt road climb from Waipa car park and from the base of each trail itís only a few minutes back up the hill using the same road.
Challenge Roadside is similar to the Challenge trail however theyíve swapped banked corners for a large number of jumps and table tops.
The trail head is off to the left from the sign and it rolls along parallel to the access road. The first section is quite open and fast with only a few small jumps. After turning the corner the trail gets faster and the jumps get bigger.
Some of the jumps are on corners making them a great place to up your skills.
Riders have created an early exit to avoid the long flat final section of the trail, however itís worth riding the pump section and small jumps at least once. The trail ends at the exit of Challenge and Boulderdash on the access road.
Like all the trails in the Challenge Area this trail has very good visibility it is also a lot more fun than it looks on video. There were a large number of people sessioning this trail on the day, from Kids on pink supermarket bikes to guys on DH bikes pulling massive air. Itís a very fun track to ride and with the early exit you can be back up the top in just a few minutes.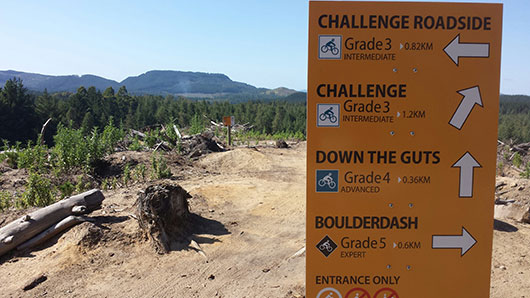 Blog articles that mention this trail