We're going to ride the Rotorua Redwoods
28/12/2013
I'm just slightly excited about my first mountain bike trip to New Zealand and I'm really looking forward to bringing you our first set of trail videos from outside of Australia.
The trip will be hit and run allowing just two half-days to ride the Rotorua Redwoods aka Whakarewarewa Redwood Forest. With so little riding time available I've been madly researching Rotorua so I can maximise the adventure.
Despite having watched AMB Mag's Rotorua DVD, "Mad If You Don't", about 40-50 times (possibly a lot more) I'd somehow got the wrong impression of the Redwoods - most significantly I had completely underestimated the size of the forest and how much descending there was available. So before I head off on what I expect will be a wondrous adventure I would like to bring you up to speed with what I've learnt so far.
Do you think this motel is
mountain bike friendly?
I don't need any more convincing
Rotorua and the Redwoods in general
1. Rotorua is only about 3 hours drive from Auckland Airport. It's really not that far should you end up in Auckland on other business.
2. The world famous Boiling Mud and the Pohutu Geyser are located at the foot of the Redwood trails, in fact you can take the bike path from your hotel via the boiling mud pools to the trail head.
3. There are accommodation options just up the road from the trails. Some advertise as being mountain bike friendly and have features such as bike washing stations and lock ups.
4. The Redwoods Forest is quite hilly and has a MASSIVE mountain and why we will be taking the Southstar Shuttle option. From the car park to the summit is roughly the same vertical climb as the Snowgums chairlift at Thredbo. That's more than double the vertical metres of Mt Stromlo!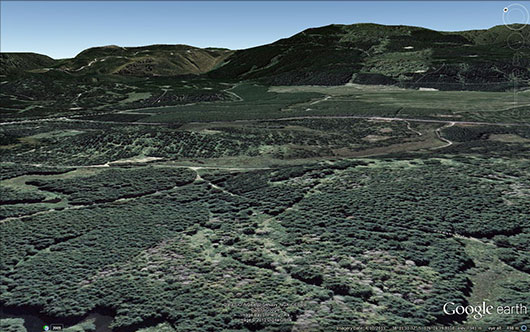 Would you look at the size of that thing !!
Click on the image to see a full size
or better still search for Whakarewarewa forest on Google Earth
The Trails
The next few points will require the assistance of this great trail map from NZO.
Click on it to see the big version.
It's not to scale but each trail is listed with a grade, length and how many metres are gained or lost along the way.
5. Find the blue trail called "Corners" it's just above the shuttle pickup point near the middle of the map in yellow. The Strava record on this 185m descent is 8-9 minutes fairly similar to the 2012/2013 Kosciszko Flow Trail at Thredbo. While the map is not to scale you can still appreciate that Corners only travels through a small section of the Redwoods forest.
6. Above Corners is "Huckleberry Hound". Huckleberry Hound and Corners together are about 5km on the descent, roughly the same length as from the top of Western Wedgetail to the car park at Stromlo (via Skyline and Luge).
a) While Stromlo descends around 190m Huckleberry Hound and Corners descends 305m.
b) The NZ trail is apparently 5km of jumps and banked corners with little respite. Thredbo's Flow Trail and Stromlo's Wedgetail, Skyline and Old Duffy have long sections of straight flat running.
c) If you take Little Red Riding Huck the trail is 2km shorter than Corners but has the same descent. That means it's going to be steep!
7. From the very top right corner follow the trails: Te Tihi-O-Tawa, Billy T, Moerangi Rd, Split Enz, Pondy DH, Pondy New, Roller Coaster and Old Chevy. That descent is around 20km. MADNESS !! So back to point 4 - its like riding from the top of the Snowgums Chairlift to Thredbo Village but on a trail that's 5 times longer than the Flow Trail and has a lot more corners .. LOTS MORE CORNERS!
Other Stuff
The map from NZO (above) has been brilliant in planning my trip but here are some other bits of gold I've found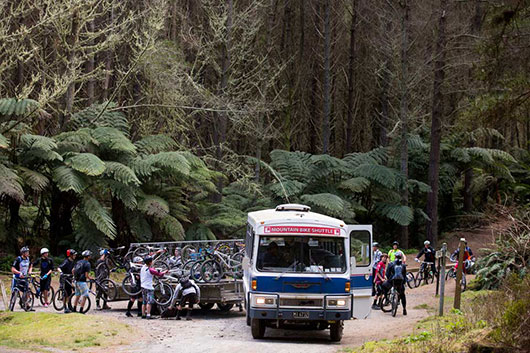 The Southstar Shuttle
What else I've learnt along the way
I must buy a

Redwoods Trail Manky

, a trail map printed on a hanky - Trail Manky
I've watched a tonne of videos and read all the magazine tips I could find on bike packing
I've read and listened intently to all advise on customs clearance and cleaning your bike before flying! - but I still might hire a bike.
Videos to watch
Rotorua by Google Maps
Trail Centres and Trails featured in this blog