Cycology - Cycling inspired clothing
27/9/2014
Born out of frustration with the lack of casual cycling wear Sarina began printing her drawings, sketches and paintings onto t-shirts. 2 years later Sarina and husband Michael have built Cycology into a thriving business with a cult following across the entire cycling community.
I recently had the opportunity to visit Cycology HQ on Sydney's Northern Beaches and was immediately blown away with the size of the operation. It's a far cry from the humble beginnings where they ordered print runs of 50 shirts, in fact on the day I visited they were expecting a delivery of shelving to cope with the tens of thousands of shirts due in the coming weeks.
But it doesn't end on the Northern Beaches, while Cycology enjoys great support from Australian cyclists, 70% of their business comes from the EU. In fact Cycology export so many shirts when they applied for a further price break on the postage they were told there wasn't one, they already send more parcels overseas than any other Australian business. Cycology are in the process of opening a EU distribution centre in Germany to cope with the growing market, speed up deliveries and provide better service to their EU customers.
With so many cycling products coming into the country from Europe it's great to see an Australian cycling related company with such a large export business
Last year they made some key strategic advertising and partnering decisions which successfully connected them to their market, this sent the business skyrocketing.
What's made Cycology so successful? In Michael's words he and Sarina "have the perfect marriage". Sarina is a highly regarded professional artist who when not sketching or painting is most likely on her bike, dressing wounds or calling from an emergency ward. Michael on the other hand looks after the business. He has an enormous passion for his customers and walks the fine line of balancing business goals without hindering the creativity at the core of the Cycology brand. They are after all quite unlike any other cycling brand and that's why their customers keep coming back.
"While our core demographic is males 35-55 last Christmas we received large numbers of big orders from women, buying for all the cycling men in their lives."
I'm a digital specialist so I was lapping up talking business with Michael, we probably had been chatting for an hour before I decided to put the spotlight back onto them personally to find out what they get out of Cycology. Up until this point Sarina had been moving around the warehouse picking orders, but when the discussion turned toward the artistic and product side her face lit up.
As a professional artist Sarina would spend 100s of hours creating a piece of work and once sold would never see it again, seeing people out wearing her artwork gives her a great buzz. Michael says "Sarina understands cycling and people get her art".
But a number of people have taken Sarina's designs to the next level through tattoos. Sarina is a "clean skin" so the thought of someone tattooing her artwork is unbelievable, Sarina humbly submits "it is the ultimate compliment". Cycology are only too happy to provide the artwork for tattoos, but on one condition - that they receive a photo for their Cycology Tattoos page.
Cycology's core products are their cycling inspired t-shirts but they have expanded on their range to include hoodies, light weight bags, satchels and other accessories but most anticipated will be the launch of their technical range.
Cycology technical range due Nov 2014
"We've been working on our technical range for over 12 months." Michael said. "We had a run of 250 jerseys last year but they just weren't right so we binned them. The quality of our products is very important to us".
Sarina has ridden hundreds and hundreds of kilometers developing and testing their technical products, putting them and herself through some tough conditions including wearing a black jersey during a race in 40įC. "It didn't feel like I was wearing anything". Sarina said.
When it came to finding the right chamois Sarina sewed dozens of them into her knicks and rode at least 50km on each one. Michael proudly explains that their riding gear will be some of the highest quality gear available at a far more reasonable price. You're also going to see some "classic Cycology" touches within the range so look out for it.
Cycology release new products every month. Follow their Facebook page and sign-up to their newsletter
In addition to their collection of eye-catching gear Cycology manage an always entertaining Facebook page, a favourite of mine. Their daily release of quirky bike themed images, some of the most amazing cycling vistas from around the world and the occasional release of Sarina's artwork receive plenty of likes.
If you want to take it to the next level the Cycology Pinterest page is simply stunning, even if you don't Pinterest make sure you have a look at the remarkable collection of images. You could spend hours in here.
Cycology offer free postage world wide and can also provide express courier options on request
Presents for Dad: Cycology t-shirts are the perfect Christmas, Fathers' Day and Birthday present for any cyclist.. hint hint.
Some of Sarina's designs found on their website, Facebook and Pinterest pages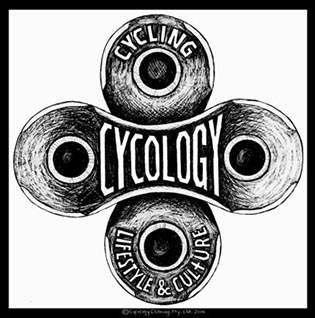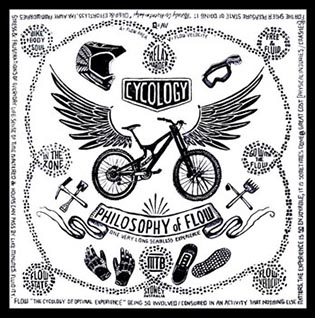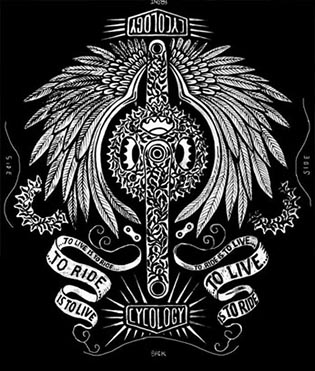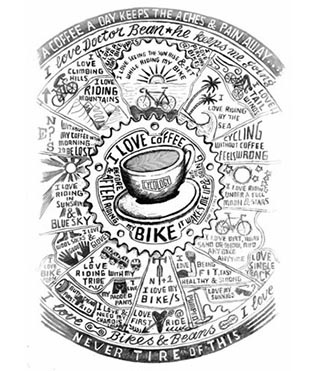 The Cycology warehouse is rapidly expanding