VIDEO: The Opening of the Alpine Epic Trail - Mt Buller
1/1/2015
I was seriously excited about my first MTB trip to Mt Buller and the opening the Alpine Epic Trail, Australia's first IMBA recognised Epic Trail, however I'd done virtually no preparation and planning, in fact I simply threw everything I had in the car and headed off hoping I hadn't forgot anything. That set the tone for the weekend - some moments of good luck, brilliant foresight, dumb decisions and poor planning. An Adventure was in the making.
Due to the rain and mud on the lens huge sections of my Epic ride are unwatchable but I still managed to get some amazing trail footage
---


"Mate the next section is an 8km climb".
My heart sunk, my chain snapped and my legs started cramping.
Shit was about to get real.
---
I arrived on Friday night at the end of the inaugural MTB Summit, a 2 day conference held in the scenic Mt Buller Resort. The closing event of the Summit was a screening of Radical Reels Festival in the Mt Buller Cinema. Inside the cinema were some of Australia's MTB Royalty including of course the architect of the Epic Trail, World Trail's Glen Jacobs. Everything seemed to be running a little bit behind schedule and as a result I found myself driving down the scary and dangerous mountain road to Mansfield at midnight. Not the best preparation.
The next morning I was running very late and to make matters worse as I drove up the winding road to Mt Bulleran apocalyptic storm came through dumping so much hail that I had to pull over. I also provided shelter to a cyclist, who turned out to be the partner of Australian Enduro racer Dan Macmunn, I didn't know who he was until I picked up AMB Mag the next day and he was on the cover (I'm now feeling somewhat embarrassed about that).
Somehow I managed to make the summit on time however there were a number of big decisions that needed to be made in a short space of time.
What bike? I'd brought both the

Anthem

and

Reign

but after chatting to some guys in the know I was told to take the bike with the grippy tyres. +1
What shoes/pedals? I decided to stick with the flats. +1
Should I put on new brake pads? Yes. +1
Bring the snowboard over-goggles? Yes. +1
It was about 10° C what clothes? I headed off with an additional covering of full length skins and a riding jacket and in my pack was a thermal top and head warmer thingy. +1
I took plenty of red frogs and muesli bars. +1
I still had an Ardent on the back when I could have put the Highroller back on. -1
I chose not to skull a Redbull (or 2). -1
I didn't take any electrolytes. -1
I took lots of hankies for cleaning my glasses, goggles and GoPro. +1
I took cash. +1
I didn't do any research on the trail elevation, "It's going to be a 43km descent right?". -100

So heres how it panned out.
The storm that had been dumping hail and shooting lightening around the adjacent peaks disappeared as the official proceedings kicked off and the near 300 riders got on their way.
The first drop onto single track was extremely slippery and it almost claimed me. Holy crap what a start! I wasn't to know was how much of this was to come.
The first half an hour or so was largely climbing through existing trails within the resort, with the odd bit of flow before a great descent to the start of the Stonefly. The descent was steep, banked and thick with black mud. I'd never experienced anything like this but it turned out to be a great warm up for virtually every descent from then on.
While I'd done no research on the Epic trail I knew a little about riding Mt Buller so when other riders told me we had to climb the Stonefly my face dropped. The boys from Flow Mountain Bikehad described the Stonefly as "a bastard of a climb" so I knew they weren't talking about a 10 minute blast up a fire trail. I'd accepted that this was going to be a tough climb but I wasn't prepared for how tough.
Speaking of the Flow Mountain Bike boys, my spirits lifted half an hour into the Stonefly climb as I pulled off the trail to let none other than Mick Ross ride past with a great big smile on his face. Then a minute or two up the hill I saw him get off his bike and walk. I thought "Well if Mick Ross has to walk the track then I'm not going so bad" At which point he pulled out the camera and started taking photos of the rider-snake winding its way up the hill before getting back on his bike and riding past me again. I was shattered :)
It was around this time I heard a rider say we were not even halfway and she wasn't talking about the whole ride but just the climb. In fact prior to seeing Mick another rider had tried to tell me that we were only about 1/20th of the way up the hill. Quite frankly I thought he was bull-shitting, but sadly No. It took me over 2 hours to climb the Stonefly, maybe closer to 2.5 hours. I walked a lot of it, a hell of a lot of it; even in the dry I wouldn't have been able to ride the whole thing but in the rain and thick mud, chopped up by a couple of hundred riders in front of me it was torturous, even to walk.
Moral of the story - If the Flow boys say it's "a bastard of a climb", have a good think about whether you really want to do it.
Now while the Stonefly climb felt like it was all uphill there were a few short descents, sometimes rooted but always super slippery. I skated out of control down one section sending me OTB when I hit the divot at the end, a divot that had claimed many before me. It was my only real crash on the trip. These descents made Rotorua's Te Tihi-O-Tawa feel grippy.
The good people at Bike Buller stationed a DJ at the top of the Stonefly which provided an opportunity to rest, eat, fill up the hydration bag and psych up for the descent. It had to be all downhill from here. 13kms, 3 hours and 2 litres of water into the journey, the weather - overcast, around 10°C and the rain had stopped.
Despite all the climbs it had been a good choice to ride the Reign with DH tires as opposed to the Anthem with Crossmarks. The 2nd bit of genius was bringing my snowboard goggles. I wear prescription glasses so when the glasses get wet or muddy it becomes almost impossible to see, taking them off is not an option. Queue the over-goggles and a 500m descent down a wet, muddy fire trail.
I departed the Stonefly unsure if I was going the right way. The condition of the trail seemed too good considering 200 riders were ahead of me. As I neared the bottom it was very reassuring to come across the "epic" sign, as was seeing 30 odd MTBers having a break at the cafe.
As I walked into the cafe I saw Mick Ross again which would have been a perfect opportunity to introduce myself and tell him what an amazing impact "Mad If You Don't" had on my mountain bike life .. but I couldn't even think, let alone speak. So I said G'day smiled politely and focused on trying to stay upright.
---


My hands were stinging like they were dunked in an ice bucket.


---
I'd forgotten to pack my electrolytes so bought a Gatorade, however it wasn't long before I wished I'd taken a couple for the road. After only a few minutes at the cafe I was back on the bike heading off and looking forward to the rest of the descent.
"Mate the next section is an 8km climb".
My heart sunk, my chain snapped and my legs started cramping. Shit was about to get real.
Despite sucking down a heap of water, increasing my food intake and taking regular breaks to stretch I'd gone past the point of no return. Any real climbing pressure through my legs was setting off cramps in my quads or calves.
I simply couldn't climb on the bike any more, I was forced to walk. I wasn't even a third of the way along the trail so I walked a long way! Downhill on the other hand was fine, I could push pretty hard going downhill and my confidence in the mud was increasing but the descents were short, the flats were next to nonexistent and the climbs were plentiful.
But again, in a moment of intense struggle my spirits were lifted when Jethro from Synergy Trails rode past, recognised me and stopped for a chat. I'd never met any of the guys from Synergy before so I relished the opportunity to let him know how much I've enjoyed riding their trails.
I hit the halfway mark about 4.5 hours in. I'd been trading places with the same half dozen people since leaving the cafe an hour or so earlier. After each climb there would be a general consensus that we were about to start descending, but no. I hate to think how many times this occurred and how many times I got off my bike and walked.
In fact from the halfway mark there was another 1.75 hours of riding (mostly walking) up hills. I wasn't the only one who had nothing left to throw at the hills, there was now a group of about a ten riders who were regularly trading places as we plodded our way through the steady rain, thick mud and over rocky fire trails.
---


I don't know where I found the energy to be riding at such speed but I loved every minute of it.



---
Some of the riders were well and truly over it. In fact I walked past more than one person dropping F and C-bombs at the trail builders .. ha! It was during this period I was thankful to have chosen to ride in my sneakers and not cleats.
6 hours into the journey I arrived at the final peak. God knows how we knew it was the final peak but we all decided it was time to get ready to descend.
Back in January I'd headed out on the Cascade Hut Trail near Thredbo and despite being summer the temperature dropped below 10°C and the rain set in (4 hours ahead of schedule). The conditions were almost identical. On that day I got so cold on the descent that I could barely hold the bars let alone use the brakes so I knew what I was in for. Many of the riders were wearing nothing more than their shorts/knicks and a shirt, some even without gloves! I can't imagine the pain they were in.
I took this opportunity to totally layer up.
Full length skins top, thermal top, riding shirt, riding jacket
Full length skins bottom, knicks, riding shorts
2 pairs of socks
2 pairs of gloves
And despite all this when the descending started I got very cold. My hands were stinging like they were dunked in an ice bucket. In fact it wasn't until I made it to the flow section that I'd built up enough warmth to ride comfortably.
From the top we descended for a short fire trail stint and through a fluro Epic banner erected for the opening. The trail then turned into a fast section of single track descent with a short climb at the end. My spirits were buoyed by the regular signs and messages of encouragement the trail crew had etched into fallen timber. We knew something big was coming.
The descent - roughly 1000m of flowy goodness.
NOTHING like the fall line run down from Stonefly this descent traversed the hillside over a plethora of jumps and rollers separated by what felt like a hundred bermed corners and slippery chicanes. On edge the whole time due to the slippery-as-soap trail surface, I don't know where I found the energy to be riding at such speed but I loved every minute of it.
I estimate the single track descent took around 15 mins plus a few breaks to clean the Goggles and GoPro or to regain composure when I got a little ragged. However the descent wasn't over and the ride - far from over.
At the end of the single track was a few minutes of descending fire trail, waterlogged, muddy and very slippery. I had great run trading places with another rider for much of the fire trail however the GoPro footage is unwatchable due to the amount of mud we kicked up on the lens.
It had been an amazing ride. Six and half hours and it was all over ... OR NOT .. as the lady in the Ice Cream truck pointed to a single track climb. "Not finished. Go up there".
The final stage of the Epic ride was a single track that followed the Delatite River .. up stream! The cramps returned. I walked much of the final half an hour but with dogged determination I rode the final meters to the finish line - a shattered man.
Aaron: "Can please you take a photo of me?"
Camera lady: "Smile"
Aaron: "No!"
In one of the films we'd watched the night before they mentioned "Levels of fun", riding the Epic trail was certainly the level of fun that involves doing something absolutely torturous but amazingly rewarding.
To put this effort into perspective:
I'd never climbed more than 400 vertical metres in a day.

The Epic - 1200m.

2 weeks earlier I'd set a personal record of riding 39.5km in 1 day, largely descending and vertically assisted by Shuttles in the Rotorua Redwoods. Prior to that my biggest day in the saddle was 25km also vertically assisted by Shuttles at Stromlo.

The Epic – 43.5km.

Set 2 weeks earlier my biggest day riding was 5.5 hours on-trail.

The Epic - 7 hours on-trail, 8 hours if you include waiting in the rain for the shuttle.
It truly was an EPIC day.
The final descent holds pride of place as my favourite descent ever. Only 2 weeks earlier I'd written on this blog that Australia didn't have a trail to rival Rotorua's Corners trail, well now we do. And some!
One day I hope to ride the Epic again, in the dry, when I'm a whole lot fitter, better prepared and 20kg lighter. Hopefully the adventure won't be as "adventurous" but it has to be done again because that descent really is EPIC!
Important info for riders heading out on the Epic trail.
Alpine country is unforgiving; even during daylight hours in the middle of summer the weather can drop from 40°C to less than 10°C super fast. Take adequate clothing and have an exit plan.

The trail is long and the climbs tough. I drank 6 litres of water despite the temperature only being 10°C. Do your homework on where you can refill along the way.

Take plenty of food and electrolytes.

Know where you are going. At the time of riding some intersections were not well signed, it would be VERY easy to ride the wrong way and plenty of people did on our ride.

The shuttles leave at set times, park at the end of the trail and shuttle up, don't try to do it the other way around.
Click on the image to see a full size photo
The official opening - what you can't see is the 200+ riders behind me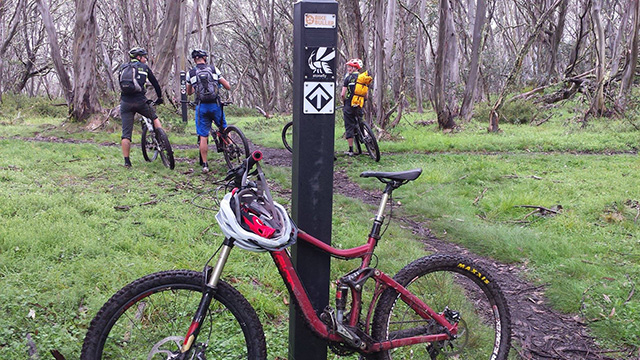 Climbing the Stonefly - still a long way to the top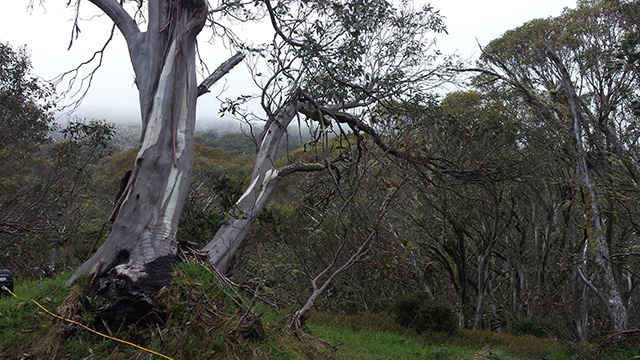 At the top of the Stonefly - only a third of the way
Halfway - looking back at Mt Buller in the centre
Halfway - Amazing views
From the top - preparing for the final descent
Riding up the Delatite River to the end.
The Strava Elevation Graph
Trail Centres and Trails featured in this blog