Trail sections for Pilot Wilderness
Other Trails
Bantry Bay (Northern Beaches, Sydney)
Bungarra Alpine Centre (Snowy Mountains)
Currumbin Border Track (NSW/QLD Border)
Daisy Hill (South Brisbane)
East Kowen (Kowen Pine Forest, Canberra)
Forest Pipeline (Northern Beaches, Sydney)
Fred Caterson Reserve (Castle Hill)
Golden Jubilee Field MTB Park (North Shore, Sydney)
Jindabyne (Snowy Mountains)
Kiwarrak State Forest (Tarree)
Majura Pines (Majura, Canberra)
Manly Dam (Northern Beaches, Sydney)
Mt Joyce (Gold Coast Hinterland)
Mt Kosciuszko (Snowy Mountains)
Nerang State Forest (Gold Coast)
Old Man's Valley (Hornsby, Sydney)
Oxford Falls (Northern Beaches, Sydney)
Pilot Wilderness (Snowy Mountains)
Red Hill (Northern Beaches, Sydney)
Rotorua Redwoods (New Zealand)
Silver Mountain (Kellogg)
Singleton (Hunter Valley)
Sparrow Hill (Kowen Pine Forest, Canberra)
St Ives and Belrose (North Shore, Sydney)
Stromlo Forest Park (Canberra)
Terrey Hills (Northern Beaches, Sydney)
The Oaks (Blue Mountains)
Thredbo Resort (Snowy Mountains)
Thredbo Valley Trail (Snowy Mountains)
Whistler Bike Park (Whistler)
Wingello (Southern Highlands)
Wylde MTB Trail (Cecil Park - Western Sydney)
Pilot Wilderness
Last Update: 6/5/2016
For full information, including maps, photos and detailed info on trail sections use the links on the right
Notes:
The full Pilot Wilderness Ride encompasses a number of trails, the Cascade Trail, Ingeegoodbee Track, Nine Mile Trail that link the Alpine Way (near Thredbo) to Barry Way (south of Ingebirah which is reasonable way south of Jindabyne).
From the Alpine Way to Barry Way is a 57km all day / overnight epic ride with some seriously large climbs, some brilliant fast descents and one amazing 1000m descent over just 5.8km. You can of course travel as far out as you dare and return to Dead Horse Gap but once past Bob's Ridge you are going to find some fairly serious climbs on the way back.
The return trip to the Cascade Hut an amazing ride and must do adventure.
Before riding in the Pilot Wilderness make sure you have done your homework, done a very thorough check of the weather conditions and have all the necessary safety gear as this part of the country is unforgiving. All trails are shared trails so be prepared to come across walkers, other riders and even NPWS vehicles.
Make sure you have your camera handy. You can expect to see some wildlife including Wild Brumbies.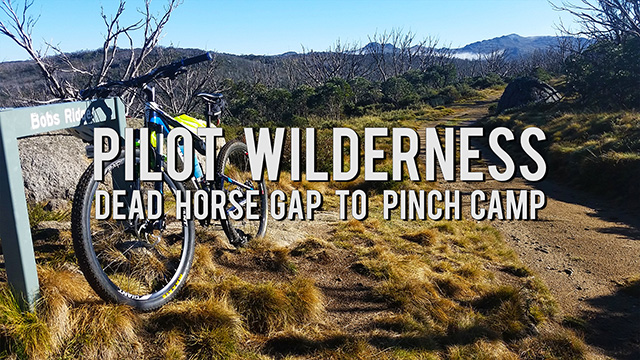 Read the full adventure story and watch the video
Blog articles that mention this trail