Other Trails
Bantry Bay (Northern Beaches, Sydney)
Bungarra Alpine Centre (Snowy Mountains)
Currumbin Border Track (NSW/QLD Border)
Daisy Hill (South Brisbane)
East Kowen (Kowen Pine Forest, Canberra)
Forest Pipeline (Northern Beaches, Sydney)
Fred Caterson Reserve (Castle Hill)
Golden Jubilee Field MTB Park (North Shore, Sydney)
Jindabyne (Snowy Mountains)
Kiwarrak State Forest (Tarree)
Majura Pines (Majura, Canberra)
Manly Dam (Northern Beaches, Sydney)
Mt Joyce (Gold Coast Hinterland)
Mt Kosciuszko (Snowy Mountains)
Nerang State Forest (Gold Coast)
Old Man's Valley (Hornsby, Sydney)
Oxford Falls (Northern Beaches, Sydney)
Pilot Wilderness (Snowy Mountains)
Red Hill (Northern Beaches, Sydney)
Rotorua Redwoods (New Zealand)
Silver Mountain (Kellogg)
Singleton (Hunter Valley)
Sparrow Hill (Kowen Pine Forest, Canberra)
St Ives and Belrose (North Shore, Sydney)
Stromlo Forest Park (Canberra)
Terrey Hills (Northern Beaches, Sydney)
The Oaks (Blue Mountains)
Thredbo Resort (Snowy Mountains)
Thredbo Valley Trail (Snowy Mountains)
Whistler Bike Park (Whistler)
Wingello (Southern Highlands)
Wylde MTB Trail (Cecil Park - Western Sydney)
Wylde MTB Trail
Last Update: 8/1/2015
For full information, including maps, photos and detailed info on trail sections use the links on the right
Notes:
Wylde Mountain Bike Trail, opened in 2014, is situated in Cecil Park just off the M7 freeway in Western Sydney. The Wylde MTB Trail is a purpose built MTB trail surrounded by other community assets.
Wylde is a XC venue cleverly laid out to provide 3km Loop, 6km Loop and 12km Loop options plus a Kids Loop. The ingenuity of this layout is that each loop is an extension of the previous loop, meaning that at the outer most reaches of the 3km Loop is the turn off to the 6km Loop (a 3km extension) returning back to the point where it started. It is the same for the 12km Loop which ads a further 6km on top of the 6km Loop. Itís a very clever design in my opinion.
For the most part the trails are wide and with the exception of a few technical challenges is fairly smooth. There are tonnes of banked corners (of varying size and speed), some challenging climbs and fun flowing sections.
Wylde is a fun XC venue designed for riders from beginners up, as you get further out on the trail (eg the 12km Loop) the challenges become more difficult, however over a full loop there is only around 141m of total climbing.
Fit riders should do the full 12km Loop in 35-50 mins, less experienced riders up to or over an hour depending on your fitness.
There is plenty of shade and water at the trail head as well as a fairly significant bike wash installation. There is no water on the trail so you must take it with you from the trail head. Toilets are located further down the road, simply follow the signs.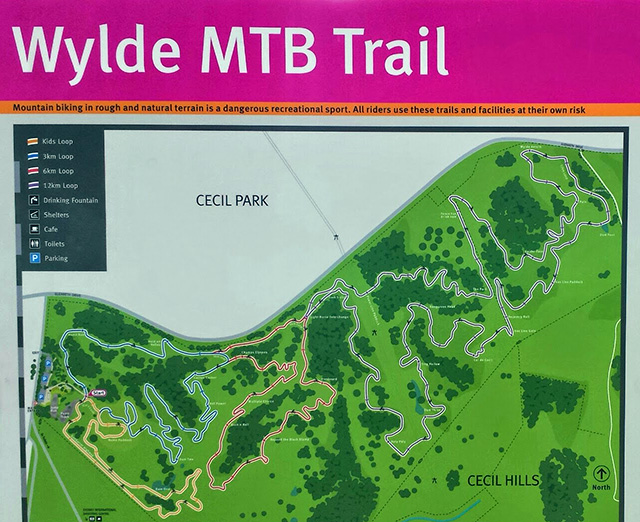 Blog articles that mention this trail