VIDEO: Rotorua Redwoods - Create Breathing Space
22/2/2014
The Rotorua Redwoods .. is my new happiest place on Earth.
In my previous blog post I talked about the stuff in and around the Whakarewarewa Forest in this piece I want touch on the trail experience. The Redwoods Forest is vast and I far from covered all of it but the small number of trails I've included in this video should have you salivating.
Be sure to visit the pages for each trail for full trail videos and a write up on each trail because seriously .. this is the 4th time I've re-written this article in an attempt to reduce it to less than the Lord of the Rings trilogy.
We recommend breaking the video out of the page by clicking on the YouTube logo & watching in HD
The Shuttle Zone
Song 1 - Coming Home - Shihad
In this area I rode Corners, Huckleberry Hound and Little Red Riding Huck. There's so much action packed into Corners and the Hucks it's impossible to paint a real picture with words. While the trails have their similarities their names are a good indication of their predominant features.
Corners has recently received a new top end extension meaning it now runs the full length of the Shuttle Zone. The berms in the top section are HUGE dropping up to 6 feet of vert as the trail doubles back on itself. The lower section is less intense but flowy like you wouldn't believe and much longer.
Huckleberry Hound runs from the Shuttle drop-off down to Hill Rd. It's got a reasonable grade and plenty of big jumps and doubles. Little Red Riding Huck, like the lower end of Corners, is narrower and tighter but is still very fast and has a tonne of jumps.
Corners destroyed my legs in fact they were burning halfway down the first section but on the Hucks my arms were crying out from hanging off the back of the bike as it found its own way down the mountain.
These runs weren't my top picks of the Redwoods but they are unbelievable. A MUST do experience and I will definitely ride them again. (Stromlo's Luge and Double Dis on steroids - lots of them)
The Challenge Area
Song: Wild Flower (Extended Remix .. remixed) - the Cult
The Challenge Area is a great playground recut into the recently harvest hillside.
Challenge itself is a fun fast open track with banked corners, a few small jumps, a couple of reasonable doubles and a small gap jump that's very friendly to those who struggle to escape the Earth's gravity like me. My only complaint of Challenge was at the time of riding the corners were very rutted, I couldn't really rail the turns and hold speed. That ruled out any attempt on the doubles.
Challenge Roadside is not dissimilar to Challenge but with less turns and a heap more jumps.
Boulderdash is given "Expert" status .. and for a reason. It is without a doubt the scariest thing I've ever ridden. I studied every video I could find like Jamaican Bobsledder but no video will ever do this trail justice, you have to take my word for it and listen to the expletives after I narrowly survived the trail. 115kg of top heavy-ness kept over the bike - Yeah I was feeling pretty FIGJAM. There was NO WAY I was going up again. Watch the full trail video and listen closely to how much sliding was going before I even got to the rock and then what happens after. I did well to get to the rock, let alone get down it.
The Challenge Area (all trails start at the same point) access via Pohaturoa, Nursery and Radio Hutt Rds is easy and a casual gradient, making the Challenge Area a fantastic set of trails to session. It's a very easy ride up from the Waipa Carpark. PERFECT for young shredders to rip and tear without the shuttle cost.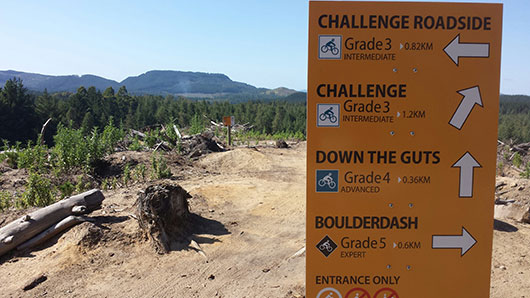 Split Enz
Song: Chase the Sun - Planet Funk (Extended Remix)
Split Enz would have been my new favourite trail if it wasn't for Te Tihi-O-Tawa. It is an amazing feat of MTB trail engineering. On my 2nd run I barely remember turning a pedal, for the most part it is flowy, fast and fun with light braking for sanity. The flow over the tight winding 2.5m 180m descent is mind blowing, it is some of the most amazing riding I've ever experienced, but to get in and out of Split Enz is an adventure .. read the full Split Enz spiel.
A MUST DO for any trip to the Redwoods and can be easily ridden on ANY mountain bike however the trek in and the ride out is long.
Top to Bottom
Song: Wait and See - Shihad
From the shuttle drop off the road heads rather vertically up to the summit. For yours truly it was a monstrously torturous walk but the rewards were so great I did it again on day 2 without hesitation.
At the time of riding the Redwoods trails were very dry but Te Tihi-O-Tawa was damp the whole way, I suspect in normal conditions it's a treacherous slip and slide from top to bottom - suggest not riding alone and be padded up.
Te Tihi-O-Tawa is much tighter than the shuttle zone trails and much steeper than Split Enz, it is also very technical which is why it's my new favourite trail. Te Tihi-O-Tawa is rutted and rooty, the turns are tight and come with little warning as do the technical challenges often in the middle or immediately after the turns. It was an intense mental challenge to keep the body moving the way it needed to .. and SO much fun.
Te Tihi-O-Tawa merges with the bottom section of Billy T which is like a tighter rougher version of Little Red Riding Huck. The trail ends at Moerangi Rd and from here the choices are to climb to Split Enz (access video)or head down G-Rock which I'm told is not dissimilar to Billy T.
Split Enz is followed by Pondy DH a fast open trail that is crazy steep in places and contains a set of stairs that come at you super fast. They got me pretty excited as you can hear in the video.
At the end of Pondy DH is Pondy New which eventually merges with the lower end of Roller Coaster. Pondy New starts with a significant winding climb through some amazingly beautiful forest. Once clear of the initial climb for the most part it's descending with regular moments of roots, ruts and drops to keep things interesting. Fast flowy sections with tight corners winding it's way through a mix of dark forest and open treed sections. There are a number of punishing but short climbs to really suck the energy from you. Harder than Split Enz but not as tight and technical as Te Tihi-O-Tawa.
The final section on our top to bottom run was Old Chevy. This trail just about did me in. Last run of the day and over 2 hours into the top to bottom adventure Old Chevy's undulating trail had me bent over the bike on many occasions. Old Chevy is a trail I would preferred to do as a stand alone and in that regard it would be easily accessed from the 8 Mile car park. This brilliant XC trail is full of short but challenging climbs, fast flowy sections, rough-rooty-technical challenges and some mighty big drops - cleverly avoided by yours truly.
If you're more XC than gravity then this is your new bestest trail! Its like they took the Ourimbah XC and Stromlo's Deep Creek and turned it up to 11. Take a look at the full video, you will appreciate the amazing trail work and the stunning forest.
The Wrap Up
In this picture I've highlighted the trails I rode over the two days, as you can see I barely scratched the surface of what the Rotorua Redwoods has to offer.
I hope you enjoyed the feature video and this quick summary of the trails I rode. I highly recommend watching all the trail videos and reading my thoughts on what makes them so great however I don't know that I have come close to expressing how much I enjoyed riding the Rotorua Redwoods. I've watched the AMB Mag Rotorua DVD by Chris Southwood and Mick Ross to the point of an unnatural obsession .. and yet that didn't come close to preparing me for the orgasmic experience of actually riding these trails.
Rotorua Redwoods .. that is all.
We recommend breaking the video out of the page by clicking on the YouTube logo & watching in HD
Trail Centres and Trails featured in this blog