Trail: Rotorua Redwoods
View
Other Trails
Bantry Bay (Northern Beaches, Sydney)
Bungarra Alpine Centre (Snowy Mountains)
Currumbin Border Track (NSW/QLD Border)
Daisy Hill (South Brisbane)
East Kowen (Kowen Pine Forest, Canberra)
Forest Pipeline (Northern Beaches, Sydney)
Fred Caterson Reserve (Castle Hill)
Golden Jubilee Field MTB Park (North Shore, Sydney)
Jindabyne (Snowy Mountains)
Kiwarrak State Forest (Tarree)
Majura Pines (Majura, Canberra)
Manly Dam (Northern Beaches, Sydney)
Mt Joyce (Gold Coast Hinterland)
Mt Kosciuszko (Snowy Mountains)
Nerang State Forest (Gold Coast)
Old Man's Valley (Hornsby, Sydney)
Oxford Falls (Northern Beaches, Sydney)
Pilot Wilderness (Snowy Mountains)
Red Hill (Northern Beaches, Sydney)
Rotorua Redwoods (New Zealand)
Silver Mountain (Kellogg)
Singleton (Hunter Valley)
Sparrow Hill (Kowen Pine Forest, Canberra)
St Ives and Belrose (North Shore, Sydney)
Stromlo Forest Park (Canberra)
Terrey Hills (Northern Beaches, Sydney)
The Oaks (Blue Mountains)
Thredbo Resort (Snowy Mountains)
Thredbo Valley Trail (Snowy Mountains)
Whistler Bike Park (Whistler)
Wingello (Southern Highlands)
Wylde MTB Trail (Cecil Park - Western Sydney)
Corners (3.94km)
Rotorua Redwoods
Last Update: 15/11/2015
Some trail names are made up, if there is a different name please let us know.
Video Uploaded: 18/1/2014

Difficulty - Intermediate - A & B Lines
Slope - Moderate - Undulating
Space - Open - Extreme Caution
Surface - Dirt - Rutted
Trail type - Single track
Notes:
Itís hard to explain just how amazing the Corners trail is, 12-15 minutes of banked corners, bermed switchbacks and brilliant forest riding. Corners is one of the greatest trails Iíve ever ridden.
IMPORTANT - The Corners Block will be logged in October 2016, so get over there before this amazing trail is lost.
On older maps Corners only runs from Hill Rd down however it was extended in 2013 all the way up to the start of Huckleberry Hound.
Corners starts parallel to Huckleberry Hound, just down the road from the Shuttle Drop Off, but itís not long before you lose sight of the other trail and descend into the forest. Large banked, open and flowy corners are the highlight of the early stages followed by long flowing sections of trail that have you shooting across the hillside and setting up for some MASSIVE banked corners that drop 6ft as they turn back on themselves.
Hill Rd seems to arrive all too quickly however I can assure you it was a welcome opportunity to get blood into the legs and some air into the lungs. The trail continues just over the road and the pace picks up immediately with some big dippers and a long snaking run along the hillside.
The lower and original section of Corners is not as open as the top section but thereís still plenty of room to let the bike run. After the first intersection with Little Red Riding Huck the trail gets very twisty with banked turns stacked up one after each other. There are also a number of short pedaling sections followed by more flowy downhill runs.
As Corners is on the lower side you may not notice the next occasion where the trail touches Little Red Riding Huck however on the 3rd and final occasion the trails cross each other.
The last section of Corners has a couple of short climbs that for my tired legs seemed much harder than they really were, however the suffering is short and the long flowy sections with smooth banked corners are in plentiful supply all the way to the end.
Corners ends on Pipeline Rd just up from the Shuttle Pickup point.
Corners is an outstanding trail and nothing Iíve ridden comes close to the size and length and sheer number of banked turns on this run. It's not to be missed.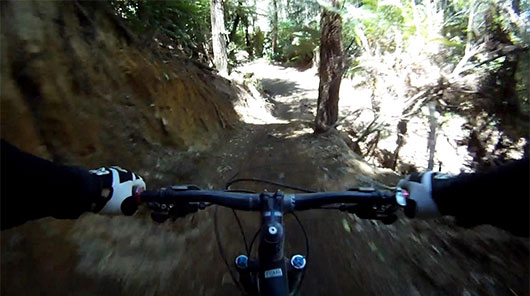 Blog articles that mention this trail