Broken Bone on Breakout
7/9/2014
Stromlo Forest Park, a 15-20 minute drive from the centre of Canberra, is my favourite place to mountain bike in Australia. It has a rare mix of high class XC, flowing gravity and downhill trails that are easily accessed by car, however this was my first time riding on an organised shuttle day.
For me riding the gravity trails has meant either a long ride up the single track, arguably slightly easier walk up the fire trails or the 30 minute up-down-up transferring of vehicles in order to reach the summit. So a shuttle day had great appeal.
They pre-arrange the ambulance .. hmm is this a good thing?
click for full size image
The shuttles were put on by CORC the largest mountain bike club in Australia and their experience running these days was very evident. I checked in with the crew at the base of the DH track, got my wrist band, loaded the bike, jumped on the 26-odd seater bus and was on my way to the summit within minutes.
Shuttle trailers seem to come in a range of different styles, this one has boxes that you slide your crank into. I must admit I'm not a big fan of this style because it's so bloody fiddly to get the bikes on and off. They had the same style at the YouYangs but a skilled loader was on hand to fit the bikes. That saved a lot of time especially when there was a mix of DH and trail bikes. The trailers in Rotorua have front wheel racks which is much easier, but the trade off is someone on the other side needs to put on the restraining strap. All that aside the bike loading was easy enough, just a little slow.
As the shuttle approaches the top it becomes evident what riders are on a mission. While guys like me are typically fumbling for all their gear others already have their helmets on and goggles down.
My day started with a warm up run to Echidna Gap and then down Western Wedgetail, Skyline, Luge and onto the bottom followed by a quick pit stop to grab the full face helmet and goggles - I was struggling to see through the tears. Despite this I still made it onto the next shuttle to repeat the same run.
Going for PRs on Western Wedgetail
click for full size image
Feeling in the zone after run 2 I took five minutes to get my full set of ghetto pads on and picked up the following shuttle.
Runs 3 and 4 were down the Vapour Trail and the lower sections of the DH. I was pretty happy with both runs, improving on my previous bests and riding far more confident on all sections of the trail. Despite whacking my junk on the seat .. twice .. I managed to stay upright.
2 runs on the DH trails is as much as my brakes and my brain can handle so I headed up on the last shuttle before lunch to ride Tall Trees, Western Wedgetail, Skyline to Northern Exposure then make my way down to Breakout.
Breakout is a great trail, not steep but still fast. Lots of flowy corners, some tight ones and plenty of sections to put the power down between turns. On my previous trip to Stromlo I'd run out of battery on my GoPro so I was keen to get down there and record a full pace run, but Murphy's Law ... I forgot to start the camera again!
Next it was time for a quick lunch break but that was my undoing. First my left thumb began cramping, then other fingers followed by my forearms. I spent the next half an hour stretching, hydrating and massaging in an attempt to ward them off. By the time I descended to Breakout I was feeling pretty good.
I took a quick breather before powering off down Breakout, but only a minute into the run I turned too early on a corner, had to correct, let the back tyre slip into the powdery dirt on the edge of the trail and BOOM. The bike slid from under me and I hit the ground hard narrowly avoiding a rather large boulder just off the trail.
The crash - it may take a while to load
Getting to my feet I knew I'd dislocated my left thumb on the handlebar so once off the trail I popped it back into place. The sound clearly audible on chest mounted GoPro. As I realigned the seat and bars the thumb popped out at least two more times so I taped it up using electrical tape.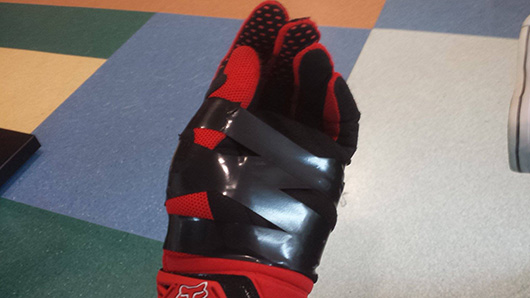 On trail repairs - always pays to carry electrical tape
Of course prior to this run I'd removed my elbow guards and loosened my bicep protectors in an attempt to ward off the cramps and give my arm muscles unrestricted movement. As a result I ended up with a nice graze right down my right forearm and right shoulder.
I was only a handful of corners into Breakout so it was a fair ride back to the car park. With my thumb rested over the top of the handlebars I cruised my way down.
The shuttle guys (I wish I could remember their names) were very helpful, suggesting the best hospital to visit based on where I was heading and better still I was in and out of the Calvary Hospital in an hour with a DVD of my broken left thumb.
The Break
click for full size image
Sadly that was the end of my MTB trip to Canberra and again I leave without having ridden Kowen.
I've got to see "my" orthopaedic surgeon this week to find out my fate. A nurse friend fears it will need surgery and pinning. While I'm not overly excited about the prospect of surgery my bigger concern is it's only 67 days until my MTB trip to Rotorua.
Just for the record: I had a great day, the shuttles were well run and everyone was super friendly. I'll definitely be back up there for another shuttle day once I'm repaired .. but maybe I wont go quite so hard in the loose stuff next time.
Row 1: A great view from the top
Row 2: Grazed forearm - I wish I hadn't taken off my pads. Hand strapped up
Row 3: My first cast. The Break
Row 4: The Anthem unused and I still haven't ridden Kowen
click for full size image
Update: 9 Sept - Going in for surgery in 2 days. Doc will need to try and align the bones in the joint before she knows what it will take to keep everything in place (pins, screws, plates etc). Rotorua is still a possibility 65 Days and counting
Trail Centres and Trails featured in this blog