Conquering Thredbo
27/1/2013
It's fair to say I was beyond nervous as I got on the Kosciuszko Express Chairlift at
Thredbo
. I'd never ridden a downhill bike, hell I'd never even sat on one until minutes before. It was case of just diving straight in and going for it.
I hate to think how many times I've tried to navigate my snowboard along the flat and icy cat track under the chairlift however during summer it's a whole different proposition. For a start it's steep! Steep and loose! Something that usually doesn't freak me out but this, the opening and easy section of the descent, made me super scared.
By the time we hit the Kosciuszko Flow Trail I was feeling out of my depth but as luck would have it the opening section of single trail suited my experience. All the riding I'd done at Manly Dam and Red Hill had groomed me for a trail like this, rocks, big rocks, plenty of rocks plus the extra 2" of travel and the slack head angle of the Giant Glory 2 was helping to make very easy work of it. I was in the zone, until the first switchback - that put me back in my place.
Corners, yeah I'd done corners, but nothing like this! 5.8kms of switchbacks!! Loose switchbacks, switchbacks with rocks in the middle of them, switchbacks with ruts, loose switchbacks with ruts going immediately into switchbacks with rocks, and then the switchbacks that really knocked me around – switchbacks with soft edged exits.
Even though we stopped 6 times on the first run I was shattered by the end. A long break before a second run, then another long break before my third and I really should have called it a day right there, but Chocolate and Redbull had me believing I could do one more.
As I mounted the chairlift for the final time that day I started to entertain the idea of riding the Thredbo Downhill trail.
"I know it's the last run of the day and I shouldn't be pushing myself or doing something new, but I hired the Glory to do the downhill and I'll be really disappointed if I ride away without doing it," I thought to myself.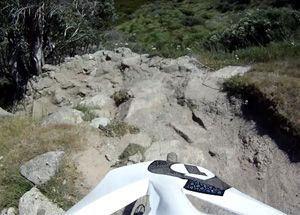 "I suck at corners, I've wasted so much energy trying to push this beast of a bike around tight corners when what I should have done was the downhill it would eat up the technical trail. Hell I'm better suited to the technical trail too! I love rocks!"
"I have studied this run for hours on YouTube. I should be able to do it on my Reign. If I'm ever going to do it I need to do it now, on the Glory."
"I can always walk *that* section'"
Some of that I said out loud.
Motivated by positive reinforcement messages stuck on my hands with elastoplast I launched myself down the Thredbo Downhill.
The opening section is fairly flat so I went hard, while the video may appear to show otherwise, I was pushing myself. Considering it was the last run of the day and my first time down the trail .. not to mention my first day on a downhill bike I was pretty happy with myself so far.
I needed a 5 minute break at Kareela Hutte because my rear breaking finger was cramping. Once decramped and adequately stretched-out I hit the most difficult section of the trail that descends down the black switchbacks into the valley towards the old Ramshead Chair.
I rode most of it, albeit quite slowly. I came unstuck a couple of times and walked two sections I didn't have the balls ride. My plan to stick to the basics, get my arse back and let the bike do the work had been a success, I only went OTB once and that was only due to a lack of concentration as the trail eased at the end of a long technical section.
I was tested again as the trail entered the bush adjacent to the Racecourse Ski Run. I just didn't have the skills to hold the momentum needed on one rocky turn so I took the wise option of walking it, but that was the final time the course defeated me. From there it was a flowy run to the finish.
WOW what a buzz. I was physically smashed, I was mentally shattered. I did half a dozen laps of the lift queue area trying to come down from where I had pushed myself. Sure it wasn't Rampage but I had conquered the Thredbo Downhill.
41 years old – 1 year on a bike – Thredbo Downhill – still breathing.
P.S. Three days later I took my Giant Reign 1 on the Kosciuszko Flow Trail. I'd come a long way in three days after practicing my corners at Lake Crackenback Skills, Pump and Flow Track and Bungarra Copperhead Flow. The Reign is really suited to the Kosciuszko Flow Trail and I really took it to a new level.

Trail Centres and Trails featured in this blog